Organic Shiitake Mushroom Extract
Product Detail
Product Tags
Introducing our newest addition to our line of health and wellness products, the Organic Shiitake Mushroom Extract Powder with 10%-50% Polysaccharide. Made from the finest quality Shiitake mushrooms sourced from organic farms, this extract powder boasts an impressive range of health benefits and is an excellent addition to your daily routine.
Shiitake mushrooms have been used for centuries in traditional medicine for their immune-boosting properties, and this extract powder is no exception. The high polysaccharide content works to strengthen the immune system and promote overall wellness. The polysaccharides in shiitake mushrooms have also shown to regulate blood sugar levels and improve cardiovascular health.
This Organic Shiitake Mushroom Extract Powder is made using a careful extraction process that ensures the preservation of all beneficial nutrients. The powder is available in a range of strengths, with 10%-50% polysaccharide, allowing you to customize your dosage and enjoy the benefits at your desired level of potency.
This extract powder is easy to incorporate into your daily routine, simply mix with water or add to your favorite smoothie, juice or warm beverage. With its rich, earthy flavor, this extract powder is also a delicious addition to your favorite culinary creations. It can be added to soups, sauces, stir-fry and other dishes as a flavor enhancer.
We take great pride in ensuring that all our products are organic, non-GMO, and free from any additives or preservatives. With this Shiitake Mushroom Extract Powder, you can rest assured that each serving is packed with all the natural goodness of the mushroom.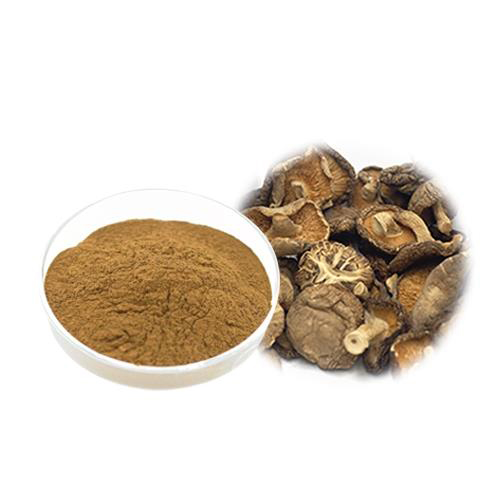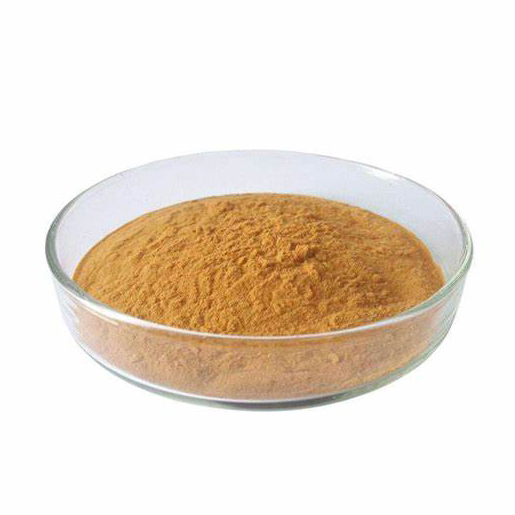 | | |
| --- | --- |
| Product | Organic Shiitake Mushroom Extract Powder |
| Part Used | Fruit |
| Place of Origin | China |
| Active ingredient | 10%-50% Polysaccharide & Beta glucan |
Test Item
Specifications
Test Method
Character
Yellow-brown Fine Powder
Visible
Smell
Characteristic
Organ
Impurity
No visible impurity
Visible
Moisture
≤7%
5g/100℃/2.5hrs
Ash
≤9%
2g/525℃/3hrs
Pesticides (mg/kg)
Complies with NOP organic standard.
GC-HPLC
Test Item
Specifications
Test Method
Total Heavy Metals
≤10ppm
GB/T 5009.12-2013
Lead
≤2ppm
GB/T 5009.12-2017
Arsenic
≤2ppm
GB/T 5009.11-2014
Mercury
≤1ppm
GB/T 5009.17-2014
Cadmium
≤1ppm
GB/T 5009.15-2014
Total Plate Count
≤10000CFU/g
GB 4789.2-2016 (I)
Yeast & Molds
≤1000CFU/g
GB 4789.15-2016(I)
Salmonella
Not be detected/25g
GB 4789.4-2016
E. Coli
Not be detected/25g
GB 4789.38-2012 (II)
Storage
Store in a well-closed container Away from moisture
Package
Specification:25kg/drum
Inner packing:Food grade two PE plastic-bags
Outer packing:paper-drums
Shelf Life
2years
Reference
(EC) No 396/2005 (EC) No1441 2007
(EC)No 1881/2006 (EC)No396/2005
Food Chemicals Codex (FCC8)
(EC)No834/2007 (NOP)7CFR Part 205
Prepared by: Ms Ma
Approved by: Mr Cheng
| | |
| --- | --- |
| Ingredients | Specifications (g/100g) |
| Energy | 1551 kJ/100g |
| Total Carbohydrates | 81.1 |
| Moisture | 3.34 |
| Ash | 5.4 |
| Protein | 10.2 |
| Sodium(Na) | 246mg/100g |
| Glucose | 3.2 |
| Total sugars | 3.2 |
• Processed from Shiitake Mushroom by SD;
• GMO & Allergen free;
• Low Pesticides and low environmental impact;
• Does not cause stomach discomfort;
• Rich in Vitamins, minerals and essential nutrients;
• Contains bio-active compounds;
• Water soluble;
• Vegan & Vegetarian friendly;
• Easy digestion & absorption.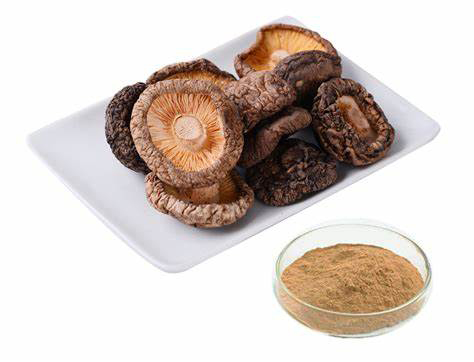 • Applied in a medicine as a supportive nutrition, supports kidney function, liver health, immune system, digestion, metabolism, Improves blood circulation, promotes cardiovascular health;
• Contains high concentration of antioxidants, which prevents aging and supports skin health;
• Coffee & Nutritional Smoothies & creamy yogurts & Capsules & Pills;
• Sport nutrition;
• Improvement of aerobic performance;
• Promotes weight loss by extra calories burning and decreasing belly fat;
• Reduce the infectiousness of hepatitis B and help strengthen immunity;
• Vegan & Vegetarian food.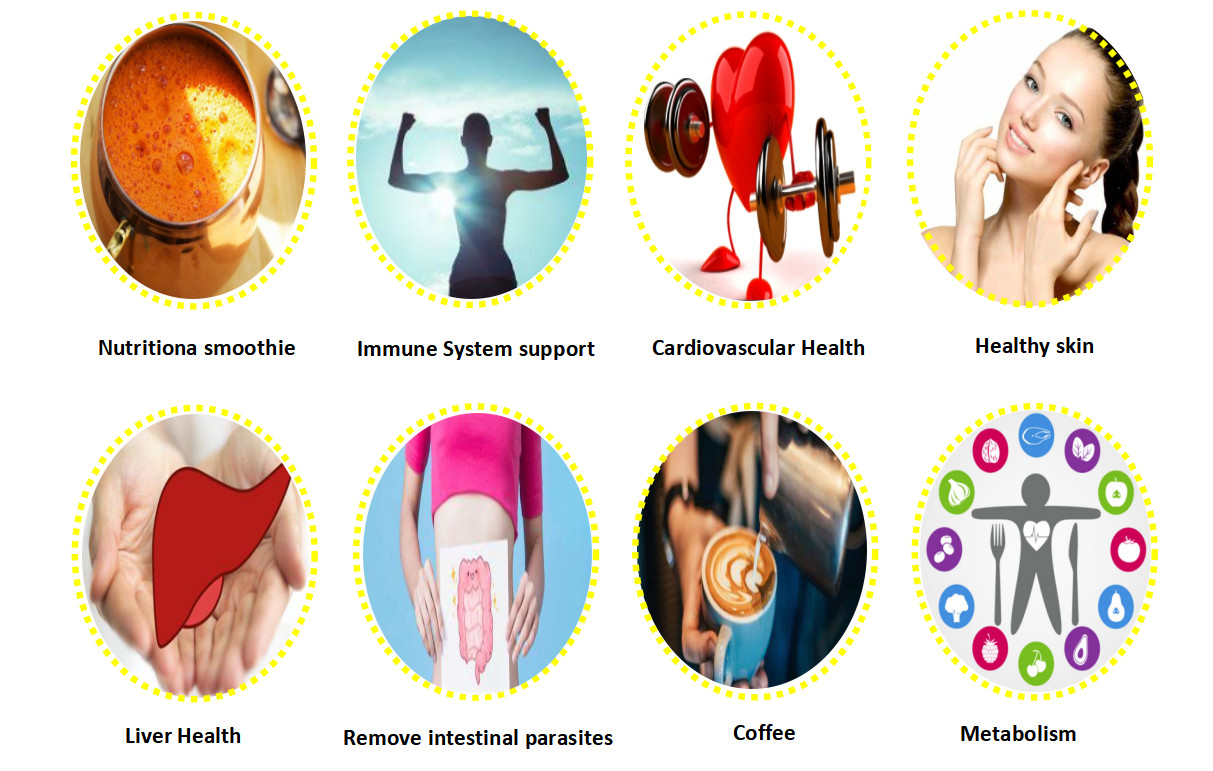 Once the raw material (NON-GMO, organically grown Shiitake Mushroom) arrives to the factory, it is tested according to the requirements, impure and unfit materials are removed. After cleaning process finished successfully Shiitake Mushroom is extracted to acquire its concentrate, which is next concentrated by 10 times water, 95-100 degrees, extract 2 times and spray drying. Next product is dried in appropriate temperature, then graded into powder while all foreign bodies are removed from the powder. After the concentration dry powder Shiitake Mushroom crushed and sieved. Finally the ready product is packed and inspected according to nonconforming product processing. Eventually, making sure about the products' quality it's sent to warehouse and transported to the destination.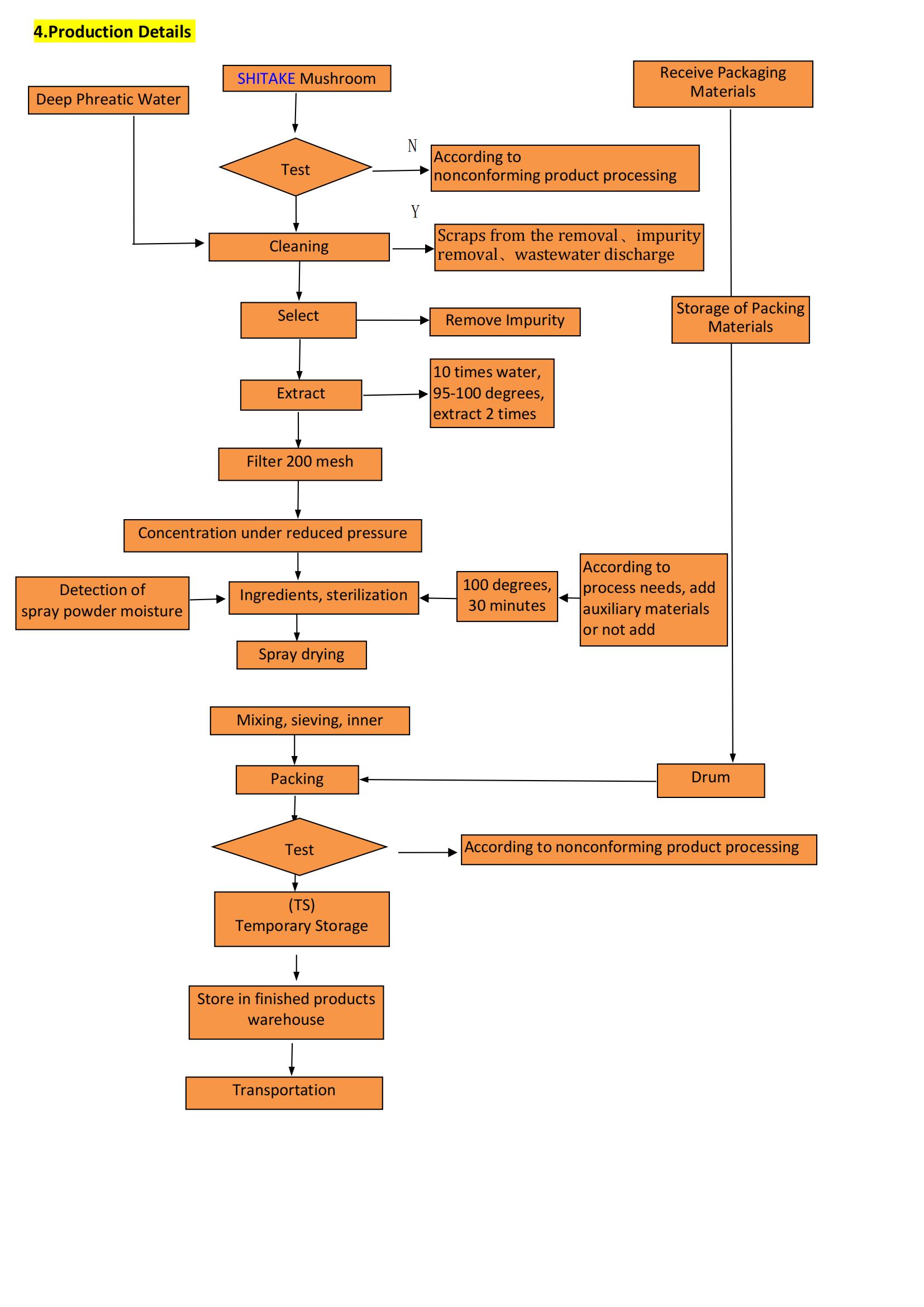 Storage: Keep in a cool, dry, and clean place, Protect from moisture and direct light.
Bulk Package: 25kg/drum.
Lead Time: 7 days after your order.
Shelf Life: 2 years.
Remark: Customized specifications also can be achieved.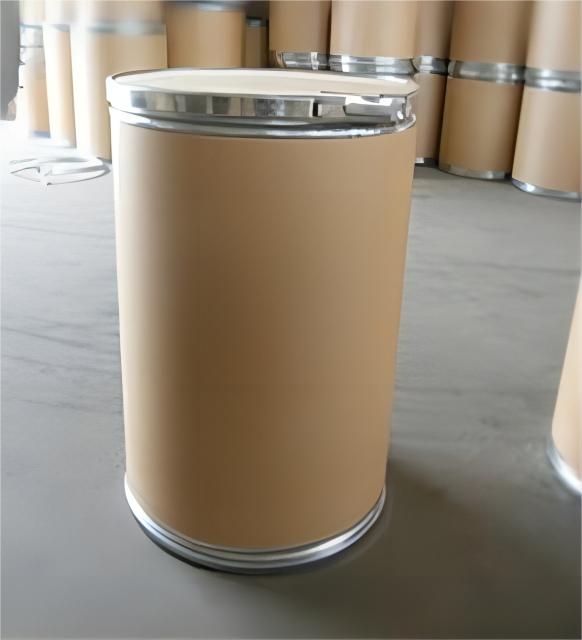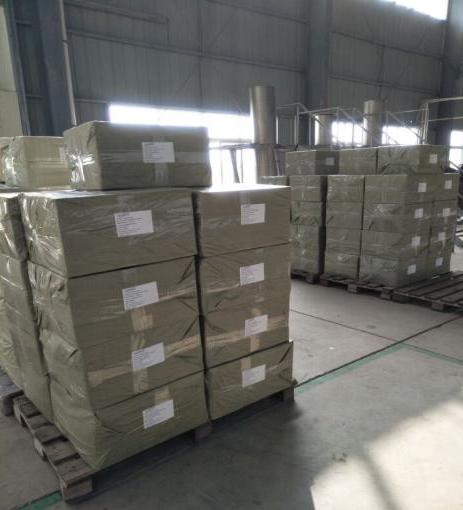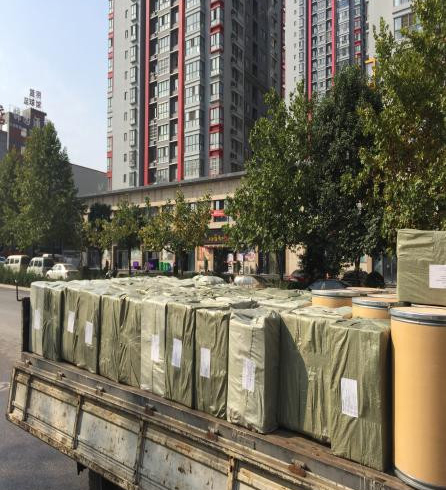 Payment and Delivery Methods
Express
Under 100kg, 3-5Days
Door to door service easy to pick up the goods
By Sea
Over300kg, Around 30 Days
Port to port service professional clearance broker needed
By Air
100kg-1000kg, 5-7Days
Airport to airport service professional clearance broker needed

Organic Shiitake Mushroom Extract Powder is certified by USDA and EU organic certificate, BRC certificate, ISO certificate, HALAL certificate, KOSHER certificate.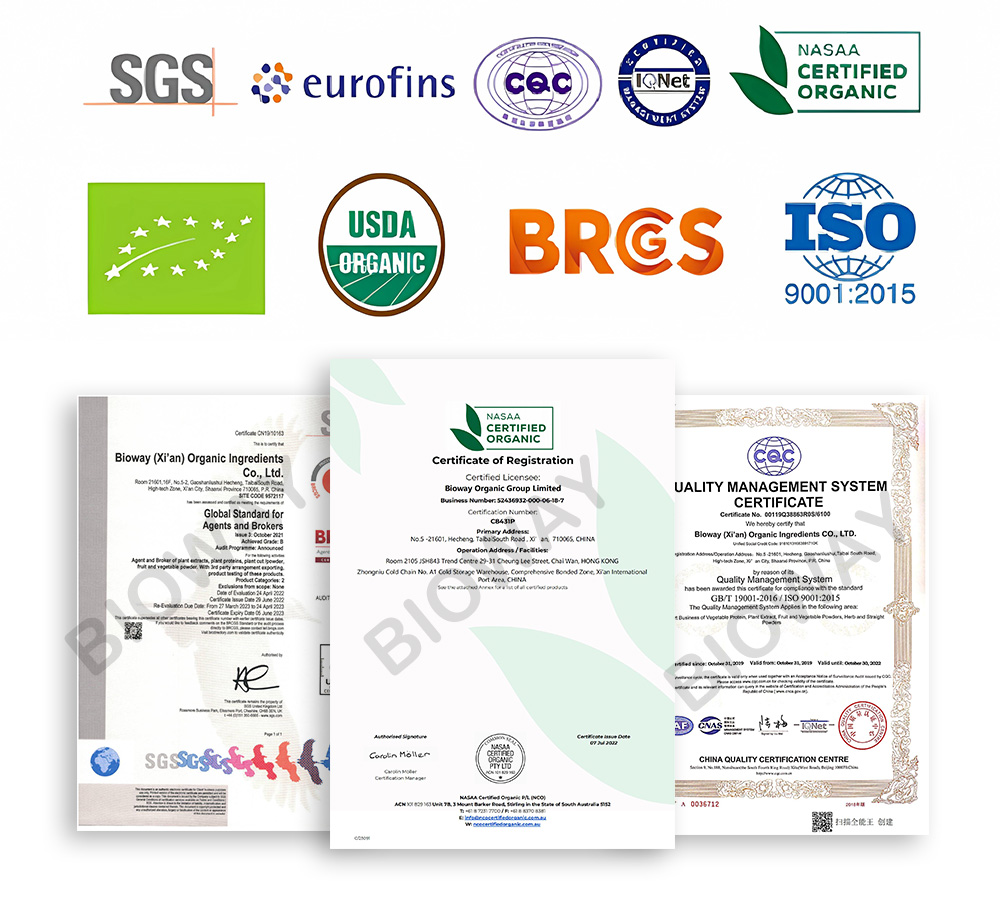 FAQ (Frequently Asked Questions)
A1: Most products we have in stock, delivery time: Within 1-3 business days after received payment. Customized products further discussed.
A2: ≤50kg ship by FedEx or DHL etc, ≥50kg ship by Air, ≥100kg can be shipped by Sea. If you have special request on delivery, please contact us.
A3: Most products shelf life 24-36 months, meet with COA.
A4: Yes, we accept ODM and OEM services, ranges: Soft gel, Capsule, Tablet, Sachet, Granule, Private Label service, etc. Please contact us to design your own brand product.
A5: Proforma invoice with our company bank details will be sent to you once the order confirmed by Email. Pls arrange payment by TT. Goods will be sent after received payment within 1-3 business days.
---
---
Write your message here and send it to us