Pure Organic Rosemary Oil with Steam Distillation
Product Detail
Product Tags
Obtained through the process of steam distillation from rosemary plant leaves, Pure Organic Rosemary Oil is classified as an essential oil. It is widely used in the production of aromatherapy, skin and hair care products due to its invigorating and stimulating properties. This oil also has natural therapeutic benefits such as relief from respiratory problems, headache and muscle pain. An "organic" labeled bottle of this oil indicates that its source rosemary plants have undergone cultivation without the use of any harmful synthetic pesticides or chemical fertilizers.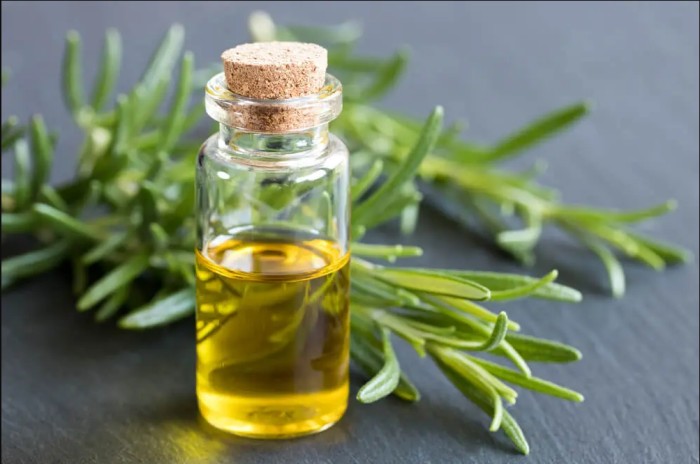 PRODUCT NAME: ROSEMARY ESSENTIAL OIL (LIQUID)
TEST ITEM
SPECIFICATION
RESULTS OF TEST
TEST METHODS
Appearance
Light Yellow volatile essential oil
Conforms
Visual
Odor
Characteristic, balsamic,cineole-like, more or less camphoraceous.
Conforms
Fan smelling method
Specific Gravity
0.890~0.920
0.908
DB/ISO
Refractive Index
1.4500~1.4800
1.4617
DB/ISO
Heavy Metal
≤10 mg/kg
<10 mg/kg
GB/EP
Pb
≤2 mg/kg
<2 mg/kg
GB/EP
As
≤3 mg/kg
<3 mg/kg
GB/EP
Hg
≤0.1 mg/kg
<0.1 mg/kg
GB/EP
Cd
≤1 mg/kg
<1 mg/kg
GB/EP
Acid Value
0.24~1.24
0.84
DB/ISO
Ester Value
2-25
18
DB/ISO
Shelf Life
12 months if Stored in a room shade, sealed and protected from light and humidity.
Conclusion
The product meets the testing requirements.
Notes
Store in a cool, dry place. Keep the package closed. Once open, use it up quickly.
1. High Quality: This oil is extracted from premium quality rosemary plants and is free from any impurities or artificial additives.
2. 100% Natural: It is made from pure and natural ingredients and is free from any synthetic or harmful chemicals.
3. Aromatic: The oil has a strong, refreshing, and herbaceous aroma that is commonly used in aromatherapy.
4. Versatile: It can be used in a variety of ways, including in skincare products, hair care products, massage oils, and more.
5. Therapeutic: It has natural therapeutic properties that can help in relieving various ailments, including respiratory problems, headache, and muscle pain.
6. Organic: This oil is certified organic, which means that it has been grown without any synthetic pesticides or fertilizers, making it safe for use.
7. Long-lasting: A little goes a long way with this potent oil, making it a great value for your money.
1) Haircare:
2) Aromatherapy
3) Skincare
4) Pain relief
5) Respiratory health
6) Cooking
7) Cleaning
Production Details (Flow Chart)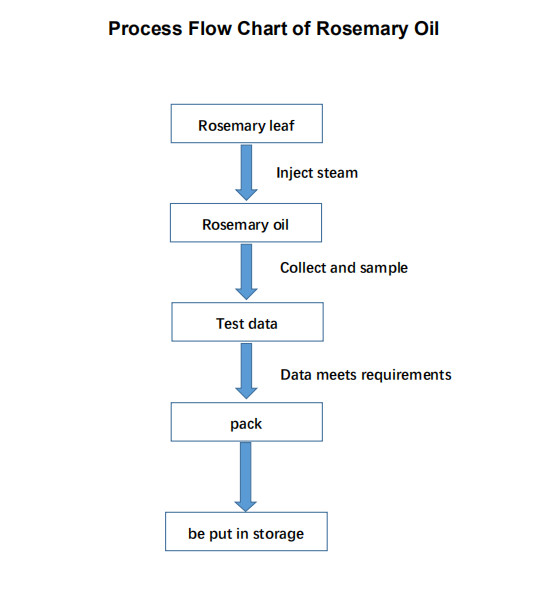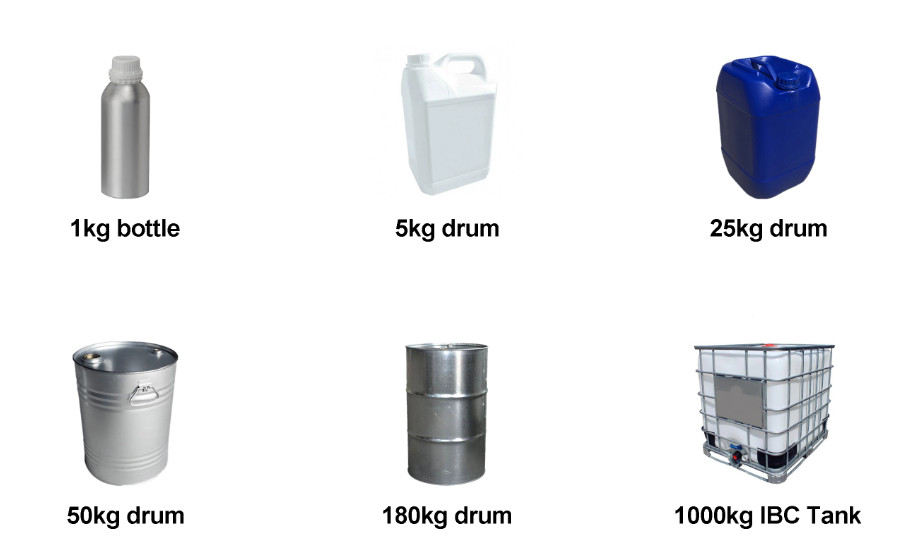 Payment and Delivery Methods
Express
Under 100kg, 3-5Days
Door to door service easy to pick up the goods
By Sea
Over300kg, Around 30 Days
Port to port service professional clearance broker needed
By Air
100kg-1000kg, 5-7Days
Airport to airport service professional clearance broker needed

It is certified by USDA and EU organic, BRC, ISO, HALAL, KOSHER, and HACCP certificates.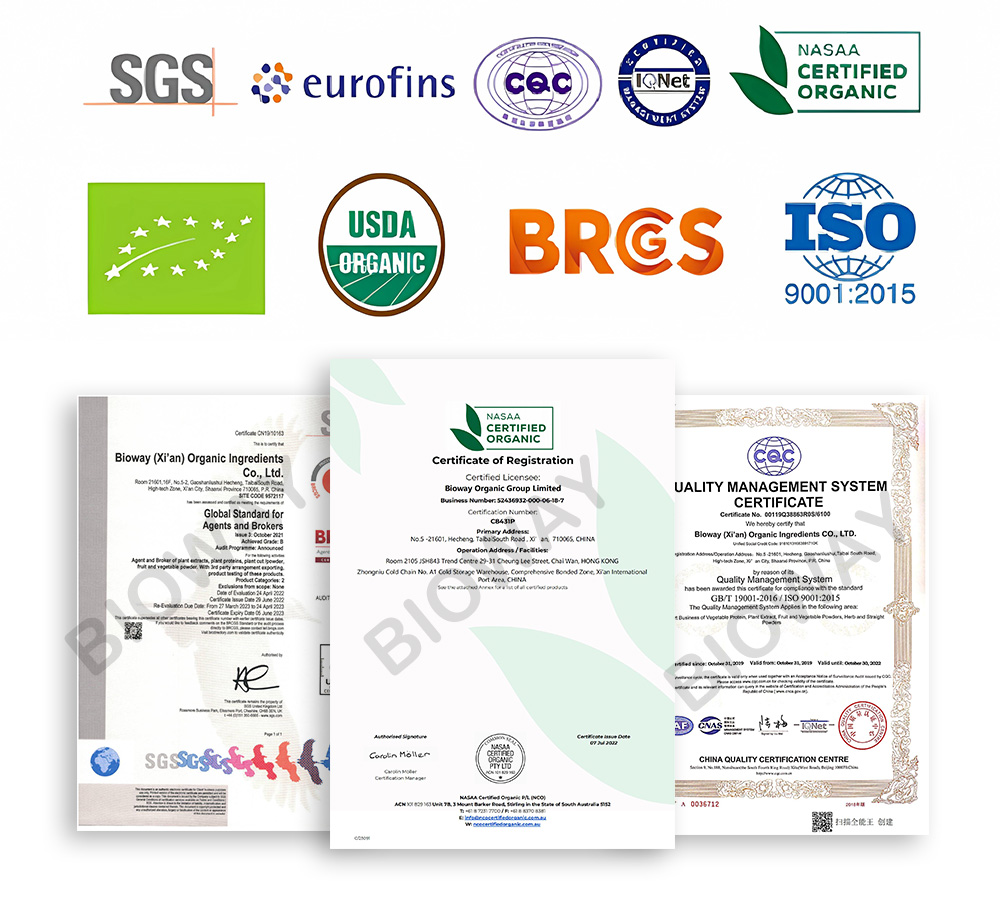 FAQ (Frequently Asked Questions)
Some ways to identify pure organic rosemary oil are:
1.Check the label: Look for the words "100% pure," "organic," or "wildcrafted" on the label. These labels indicate that the oil is free from any additives, synthetic fragrances, or chemicals.
2.Smell the oil: Pure organic rosemary oil should have a strong, refreshing, and herbaceous aroma. If the oil smells too sweet or too synthetic, it may not be authentic.
3.Check the color: The color of pure organic rosemary oil should be pale yellow to clear. Any other color, such as green or brown, may indicate that the oil is not pure or of poor quality.
4.Check the viscosity: Pure organic rosemary oil should be thin and runny. If the oil is too thick, it may contain additives or other oils mixed in.
5.Choose a reputable brand: Only buy pure organic rosemary oil from a reputable brand that has a good reputation for producing high-quality essential oils.
6. Conduct a purity test: Conduct a purity test by adding a few drops of rosemary oil to a white piece of paper. If there is no oil ring or residue left behind when the oil evaporates, it is most likely pure organic rosemary oil.
---
Previous:
Cold Pressed Organic Peony Seed Oil
Next:
Pure Parthenolide
---
Write your message here and send it to us