90% High-Content Vegan Organic Pea Protein Powder
Product Detail
Product Tags
90% High-Content Vegan Organic Pea Protein Powder is a dietary supplement made with pea protein extracted from yellow peas. It is a plant-sourced vegan protein supplement that contains all nine essential amino acids your body needs to grow and repair. This powder is organic, which means it's free of harmful additives and genetically modified organisms (GMOs).
What pea protein powder does is provide the body with a concentrated form of protein. Easy to digest, suitable for people with sensitive stomach or digestive problems. Pea protein powder can help support muscle growth, aid in weight management, and improve overall health.
90% High Content Vegan Organic Pea Protein Powder is versatile. It can be added to smoothies, shakes, and other beverages for a protein boost. It can also be used in baking to increase the protein content of baked goods. Pea protein powder is a great alternative to other protein powders, especially for those who are lactose intolerant or allergic to dairy.
| | | | | | |
| --- | --- | --- | --- | --- | --- |
| Product Name: | Pea Protein 90% | Production Date: | Mar.24, 2022 | Batch No. | 3700D04019DB 220445 |
| Quantity: | 24MT | Expiry Date: | Mar.23, 2024 | PO No. | |
| Customer Article | | Testing Date: | Mar.25, 2022 | Issuing Date: | Mar.28, 2022 |
No.
Test Item
Test Method
Unit
Specification
Result
1
Color
Q/YST 0001S-2020
/
Pale yellow or Milky white
Light yellow
Smell
/
With right smell of the
product, no abnormal odor
Normal, no abnormal odor
Character
/
Powder or uniform particles
Powder
Impurity
/
No visible impurity
No visible impurity
2
Particle Size
100 mesh pass at least 98%
Mesh
100mesh
Confirmed
3
Moisture
GB 5009.3-2016 (I)
%
≤10
6.47
4
Protein (dry basis)
GB 5009.5-2016 (I)
%
≥90
91.6
5
Ash
GB 5009.4-2016 (I)
%
≤5
2.96
6
pH
GB 5009.237-2016
/
6-8
6.99
7
fat
GB 5009.6-2016
%
≤6
3.6
7
Gluten
Elisa
ppm
≤5
<5
8
Soy
Elisa
ppm
<2.5
<2.5
9
Total Plate Count
GB 4789.2-2016 (I)
CFU/g
≤10000
1000
10
Yeast & Molds
GB 4789.15-2016
CFU/g
≤50
<10
11
Coliforms
GB 4789.3-2016 (II)
CFU/g
≤30
<10
12
Black spots
In house
/kg
≤30
0
The above items are based on routine batch analysis.
13
Salmonella
GB 4789.4-2016
/25g
Negative
Negative
14
E. Coli
GB 4789.38-2016 (II)
CFU/g
<10
Negative
15
Staph. aureus
GB4789.10-2016 (II)
CFU/g
Negative
Negative
16
Lead
GB 5009.12-2017(I)
mg/kg
≤1.0
ND
17
Arsenic
GB 5009.11-2014 (I)
mg/kg
≤0.5
0.016
18
Mercury
GB 5009.17-2014 (I)
mg/kg
≤0.1
ND
19
Ochratoxin
GB 5009.96-2016 (I)
μg/kg
Negative
Negative
20
Aflatoxins
GB 5009.22-2016 (III)
μg/kg
Negative
Negative
21
Pesticides
BS EN 1566 2:2008
mg/kg
Not be detected
Not Detected
22
Cadmium
GB 5009.15-2014
mg/kg
≤0.1
0.048
The above items are based on periodic analysis.
CONCLUSION: The product is complied with GB 20371-2016.
QC Manager :Ms. Mao
Director : Mr. Cheng
Product Feature and Application
Some specific product attributes of 90% High Vegan Organic Pea Protein Powder include:
1.High protein content: As the name suggests, this powder contains 90% pure pea protein, which is higher than many other plant-based protein sources.
2.Vegan and Organic: This powder is made entirely of natural plant ingredients and is suitable for vegans and vegetarians. Plus, it's certified organic, which means the product is free from harmful chemicals and pesticides.
3.Complete amino acid profile: Pea protein is rich in all nine essential amino acids, including lysine and methionine, which are often lacking in other plant-based protein sources.
4.Digestible: Unlike many animal protein sources, pea protein is digestible and hypoallergenic, making it gentle on the digestive system.
5.Versatile: This powder can be used in a variety of foods and beverages, including smoothies, milkshakes, baked goods, and more, providing a convenient way to increase your protein intake.
6.Eco-friendly: Peas require less water and fertilizer than other crops, making them a sustainable source of protein.
Overall, 90% High Content Vegan Organic Pea Protein Powder offers a convenient and sustainable way to meet your protein needs without the disadvantages of animal protein sources.
Production Details(Product Chart Flow)
Here's a quick rundown of how 90% high-content vegan organic pea protein powder is made:
1. Raw material selection: select high-quality organic pea seeds with uniform size and good germination rate.
2. Soaking and cleaning: soak the organic pea seeds in water for a certain period of time to promote germination, and then clean them to remove sundries and impurities.
3. Germination and germination: The soaked pea seeds are left to germinate for a few days, during which enzymes decompose starch and carbohydrates into simple sugars, and the protein content increases.
4. Drying and milling: The germinated pea seeds are then dried and ground into a fine powder.
5. Protein separation: mix pea flour with water, and separate the protein through various physical and chemical separation methods. The extracted protein is further purified using filtration and centrifugation techniques.
6. Concentration and refining: the purified protein is concentrated and refined to increase its concentration and purity.
7. Packaging and Quality Control: The final product is packaged in airtight containers and undergoes quality control testing to ensure the protein powder meets required specifications for purity, quality, and nutritional content.
Of note, the exact procedure may vary depending on the manufacturer's specific methods and equipment.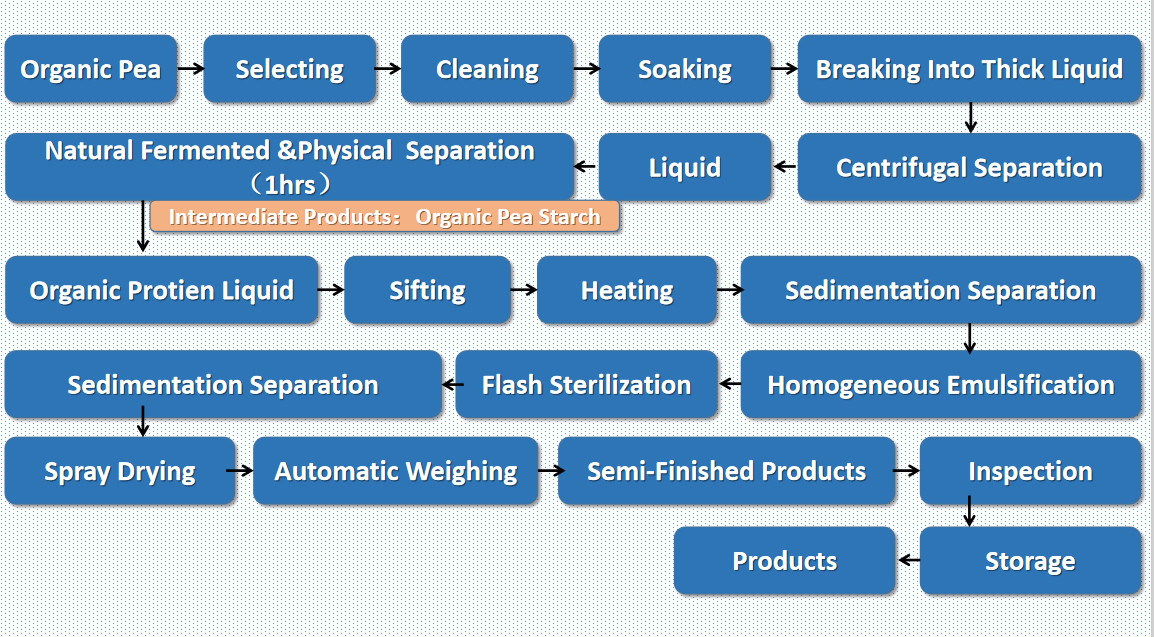 Storage: Keep in a cool, dry, and clean place, Protect from moisture and direct light.
Bulk Package: 25kg/drum.
Lead Time: 7 days after your order.
Shelf Life: 2 years.
Remark: Customized specifications also can be achieved.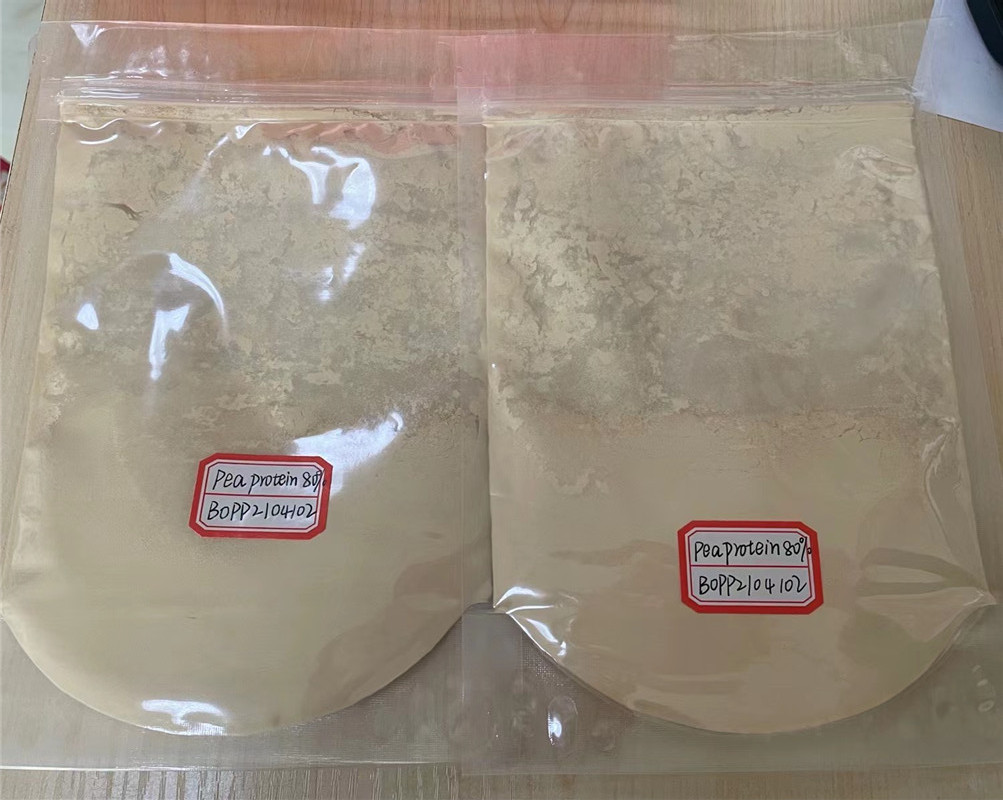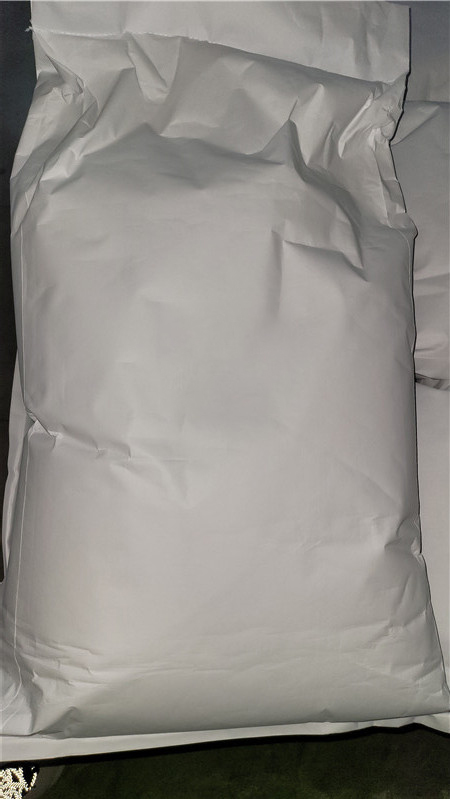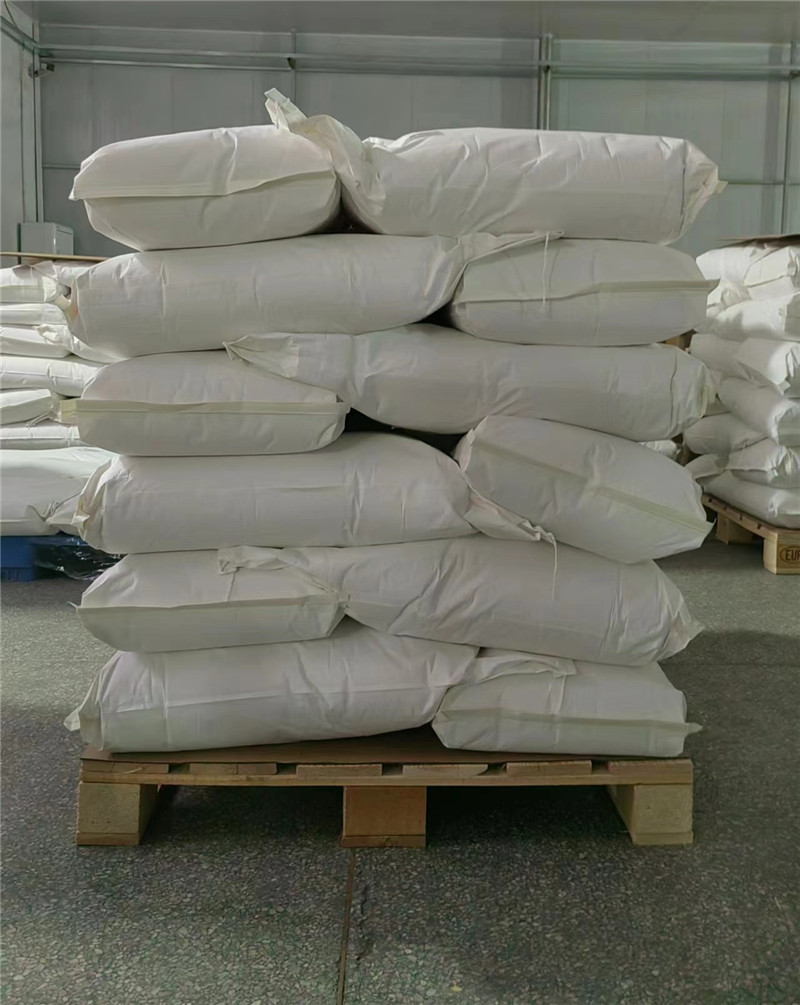 Payment and Delivery Methods
Express
Under 100kg, 3-5Days
Door to door service easy to pick up the goods
By Sea
Over300kg, Around 30 Days
Port to port service professional clearance broker needed
By Air
100kg-1000kg, 5-7Days
Airport to airport service professional clearance broker needed

Organic Pea Protein Powder is certified by USDA and EU organic, BRC, ISO, HALAL, KOSHER, and HACCP certificates.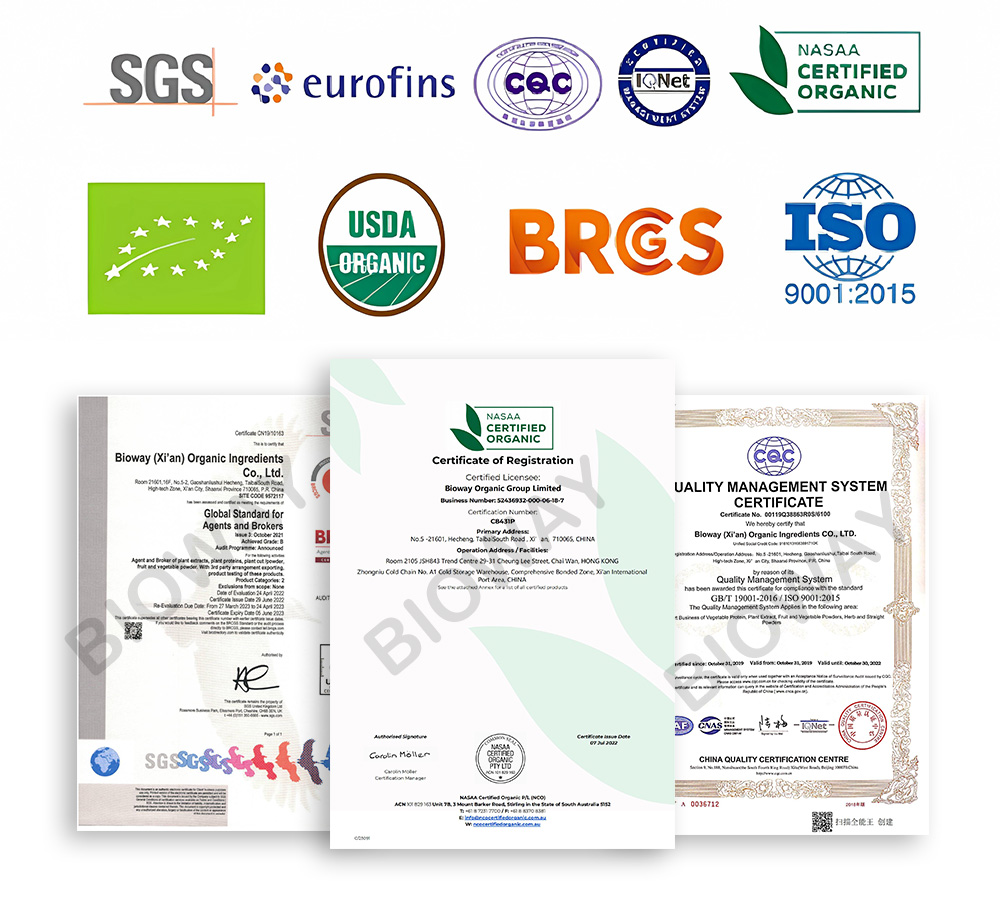 Why we choose Organic Pea Protein?
1. Organic pea protein can be a beneficial dietary supplement for people with chronic conditions, including:
1) Heart disease: Organic pea protein is low in saturated fat and high in fiber, which can help lower blood pressure and cholesterol levels. This can reduce the risk of heart disease and improve heart health.
2) Type 2 diabetes: Organic pea protein has a low glycemic index, which means it won't cause rapid spikes in blood sugar levels. This can help regulate blood sugar levels and improve insulin resistance, which is beneficial for people with type 2 diabetes.
3) Kidney disease: Organic pea protein is an excellent low-phosphorus protein source. This makes it a suitable protein source for people with kidney disease who need to limit their phosphorus intake.
4) Inflammatory Bowel Disease: Organic pea protein is well tolerated and easily digestible, making it a suitable protein source for people with inflammatory bowel disease who may have difficulty digesting other proteins. In summary, organic pea protein can provide high-quality protein, essential amino acids, and other beneficial nutrients that can provide a range of health benefits for people with chronic diseases.
Meanwhile, Organic pea protein works for:
2 Environment Benefits:
The production of animal-based protein, such as beef and pork, is a major contributor to greenhouse gas emissions and environmental pollution. In contrast, plant-based protein sources require significantly less water, land, and other resources to produce. As a result, plant-based protein can help reduce the environmental impact of food production and contribute to a more sustainable food system.
3. Animal Welfare:
Lastly, plant-based protein sources often do not involve the use of animal products or byproducts. This means that a plant-based diet can help reduce animal suffering and promote a more humane treatment of animals.
FAQ (Frequently Asked Questions)
A1. Pea protein powder has several benefits such as: it is a rich source of protein, easily digestible, low in fat and carbohydrates, free of cholesterol and lactose, can support muscle growth and recovery, and can help lower blood pressure.
A2. The recommended intake of pea protein powder varies with individual needs and goals. Typically, 20-30 grams of protein per day is suitable for most people. However, it is recommended to consult a healthcare professional or registered dietitian to determine an individual's appropriate intake.
A3. Pea protein powder is generally safe to consume, and no serious side effects have been reported. Some people may experience digestive problems such as bloating, gas, or mild stomach discomfort when taking large amounts. It is best to start with a small amount and gradually increase your intake while monitoring for any adverse effects.
A4. Pea protein powder should be stored in a cool and dry place away from direct sunlight to maintain its quality and freshness. It is recommended to keep the powder in its original airtight container or transfer it to an airtight container.
A5. Yes, incorporating pea protein powder into a healthy diet combined with regular exercise can help build muscle and support muscle recovery.
A6. Pea protein powder is low in calories, fat and carbohydrates, making it suitable for weight loss. Adding pea protein powder to a balanced diet may help reduce appetite, promote feelings of fullness and aid in weight management. However, it is important to remember that weight loss cannot be achieved with one supplement alone and should be followed by a healthy diet and exercise regime.
A7. Pea protein powders are usually free of common allergens like lactose, soy or gluten. However, this product may be processed in a facility that handles allergenic compounds. Always check labels carefully and consult a healthcare professional if you have specific allergies or dietary restrictions.
---
Previous:
---
Write your message here and send it to us