High-Content Organic Pea Fiber
Product Detail
Product Tags
Organic Pea Fiber is a dietary fiber sourced from organic green peas. It is a fiber-rich plant-based ingredient that helps support digestive health and regularity. Pea fiber is also a good source of protein and has a low glycemic index, making it suitable for those looking to manage blood sugar levels or maintain a healthy weight. It can be added to a variety of foods, such as smoothies, baked goods, and soups, to boost their fiber content and improve texture. Organic Pea Dietary Fiber is also a sustainable and environmentally friendly ingredient as it is made from renewable resources and produced using environmentally friendly processes. This is a great option for those who are looking for a natural and healthy way to increase their fiber intake.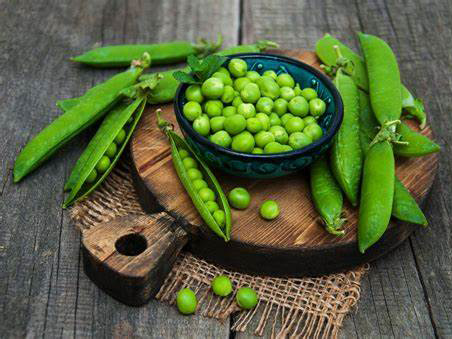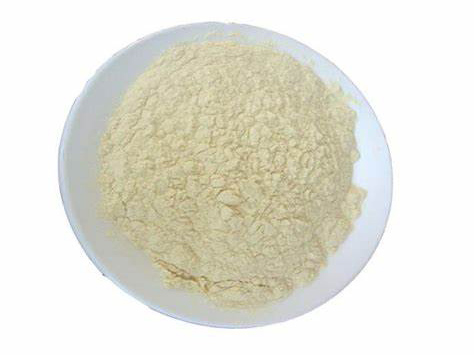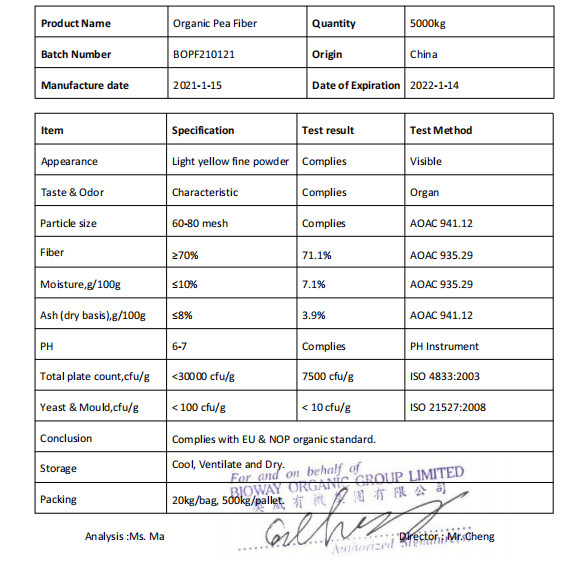 • Enhance the body's immune function: peas are rich in various nutrients needed by the human body, especially high-quality protein, which can improve the body's disease resistance and rehabilitation capabilities.
• Pea is rich in carotene, which can prevent the synthesis of human carcinogens after eating, thereby reducing the formation of cancer cells and reducing the incidence of human cancer.
• Laxative and moisturizing intestines: Peas are rich in crude fiber, which can promote the peristalsis of the large intestine, keep the stool smooth, and play a role in cleaning the large intestine.
Organic pea fiber can be used in a variety of applications in the food industry. Here are some potential uses for organic pea fiber:
• 1. Baked food: Organic pea fiber can be added to baked food such as bread, muffins, cookies, etc. to increase the fiber content and improve the taste.
• 2. Beverages: Pea fiber can be used in drinks like smoothies or protein shakes to help add consistency and provide extra fiber and protein.
• 3. Meat products: Pea fiber can be added to meat products such as sausages or burgers to improve texture, increase moisture and reduce fat content.
• 4. Snacks: pea fiber can also be used in biscuits, potato chips, puffed snacks and other snack foods to increase fiber and improve texture.
• 5. Cereals: Organic pea fiber can be added to breakfast cereals, oatmeal or granola to increase their fiber content and provide healthy protein.
• 6. Sauces and Dressings: Organic pea fiber can be used as a thickener in sauces and dressings to improve their texture and provide extra fiber.
• 7. Pet food: Pea fiber can be used in pet food to provide a source of fiber and protein for dogs, cats or other pets.
Overall, organic pea fiber is a versatile ingredient that can be used in a wide range of applications to increase nutritional value and improve the quality of finished products.   
Manufacturing process of Organic Pea fiber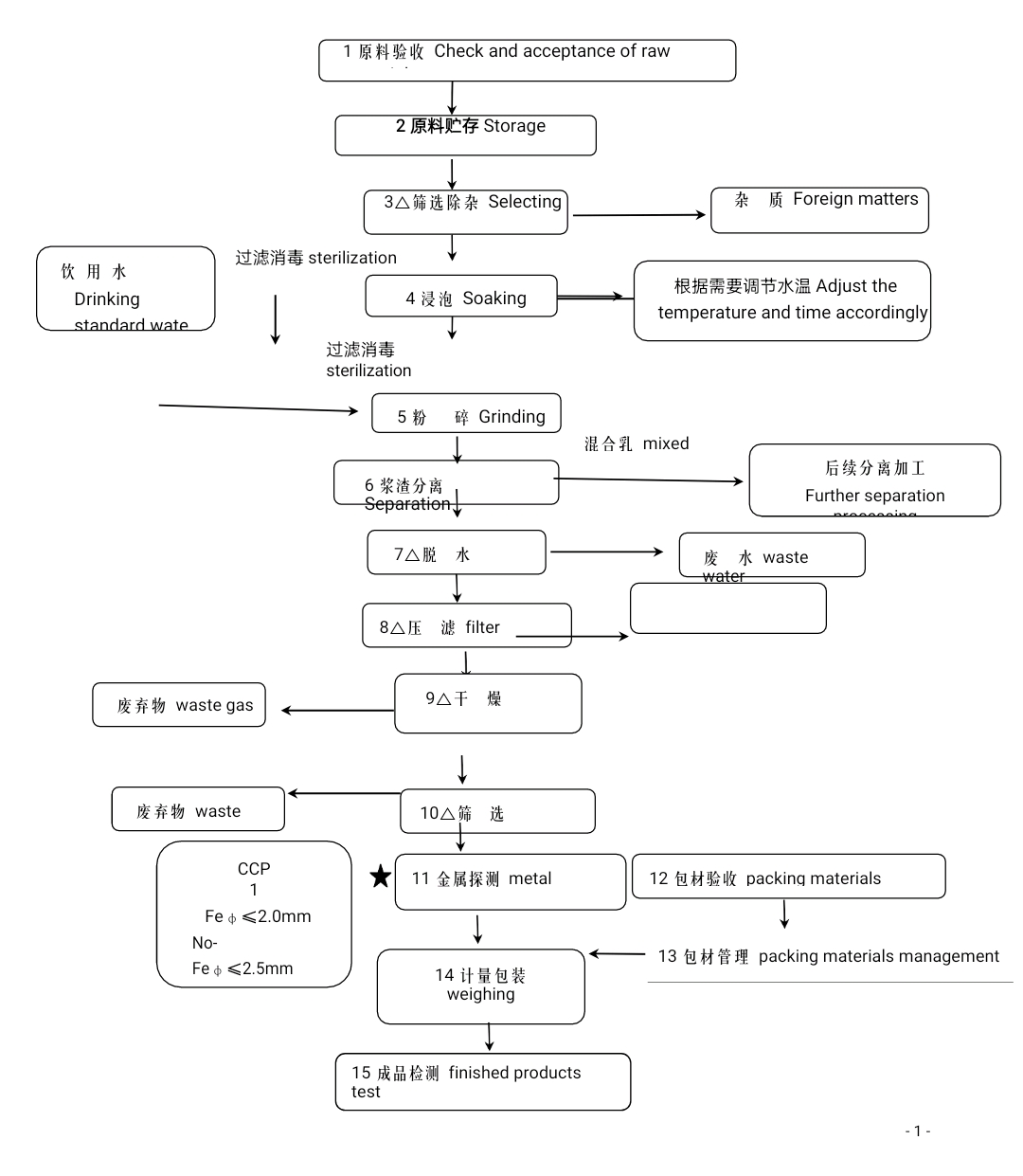 Storage: Keep in a cool, dry, and clean place, Protect from moisture and direct light.
Bulk Package: 25kg/drum.
Lead Time: 7 days after your order.
Shelf Life: 2 years.
Remark: Customized specifications also can be achieved.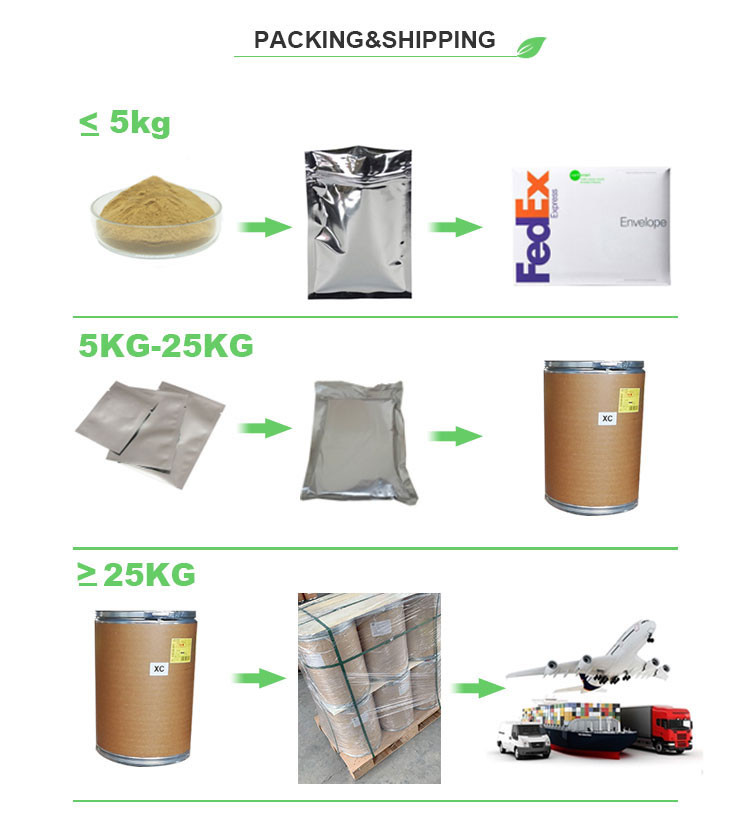 Payment and Delivery Methods
Express
Under 100kg, 3-5Days
Door to door service easy to pick up the goods
By Sea
Over300kg, Around 30 Days
Port to port service professional clearance broker needed
By Air
100kg-1000kg, 5-7Days
Airport to airport service professional clearance broker needed

Organic Pea Fiber is certified by USDA and EU organic, BRC, ISO, HALAL, KOSHER and HACCP certificates.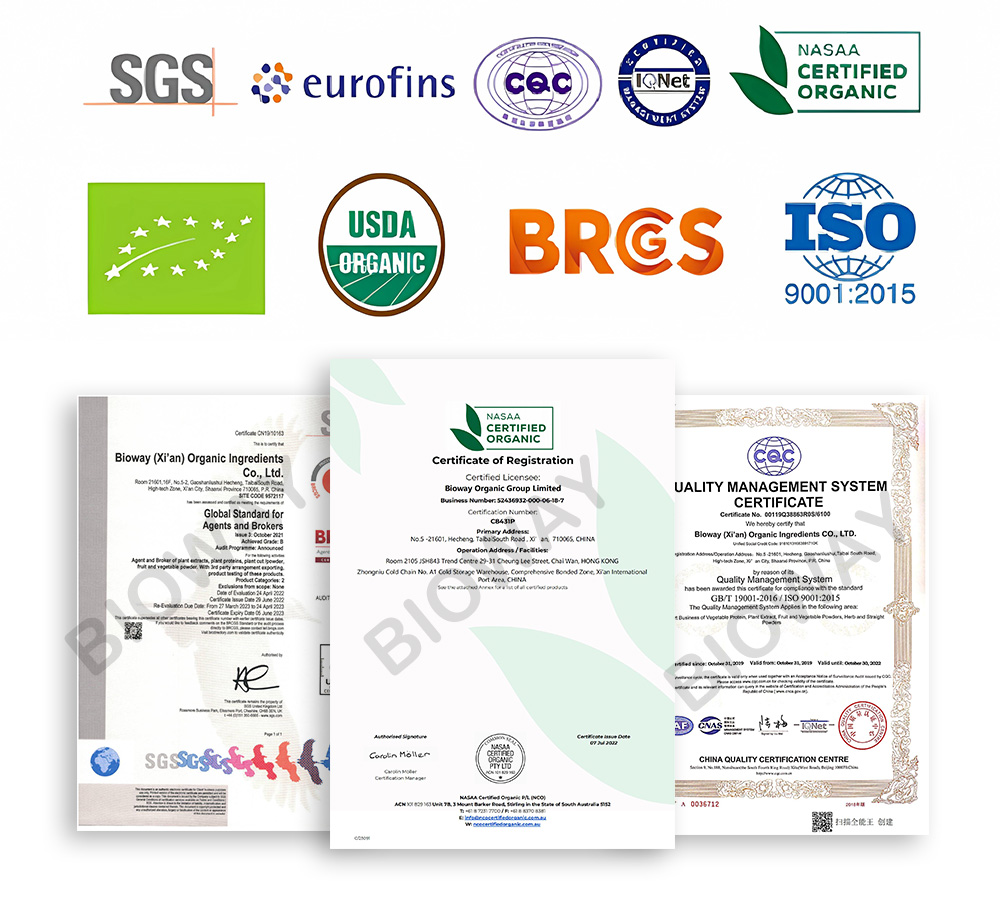 How to choose organic pea fiber?
When choosing an organic pea fiber, here are some factors you can consider:
1. Source: Look for pea fiber that is sourced from non-GMO, organically grown peas.
2. Organic Certification: Choose fiber that is certified organic by a reputable certifying body. This ensures that the pea fiber was grown and processed naturally without the use of synthetic fertilizers, pesticides, or other harmful chemicals.
3. Production Method: Look for pea fiber that is produced using efficient and environmentally friendly processing methods that preserve nutrient content.
4. Purity: Choose a fiber that has a high concentration of fiber and minimal amounts of sugar and other additives. Avoid fibers that contain preservatives, sweeteners, natural or artificial flavors or other additives.
5. Brand Reputation: Choose a brand that has a good reputation in the market for manufacturing high-quality organic products.
6. Price: Consider the price of the product you choose but always remember, high quality, organic products usually come at a higher price.
---
Previous:
Marine Fish Collagen Oligopeptides
---
Write your message here and send it to us