Polygonum Cuspidatum Extract High-Purity Resveratrol powder
Product Detail
Product Tags
Polygonum Cuspidatum Extract High-Purity Resveratrol Powder, also known as Japanese knotweed extract or Hu Zhang extract, is a concentrated form of resveratrol derived from the Japanese knotweed plant. It contains a high percentage of resveratrol, which has been shown to be a potent antioxidant and anti-inflammatory compound that may help prevent or manage a range of health conditions, including cardiovascular disease, diabetes, cancer, and neurodegenerative disorders. This extract is often used in dietary supplements, functional foods, and topical skincare products for its health-promoting properties.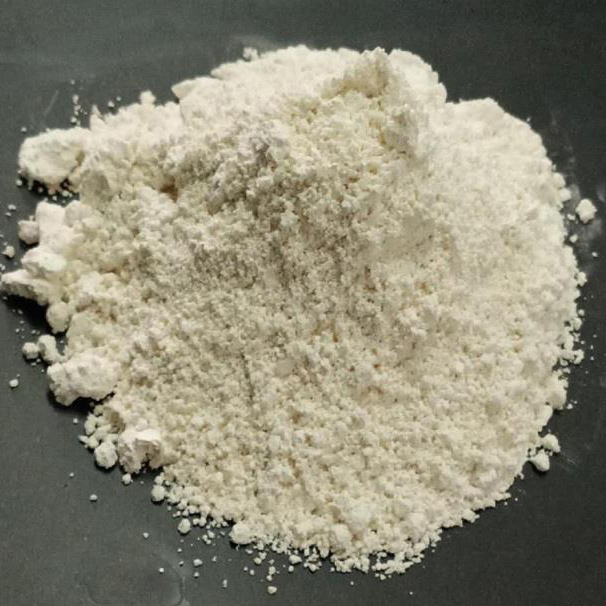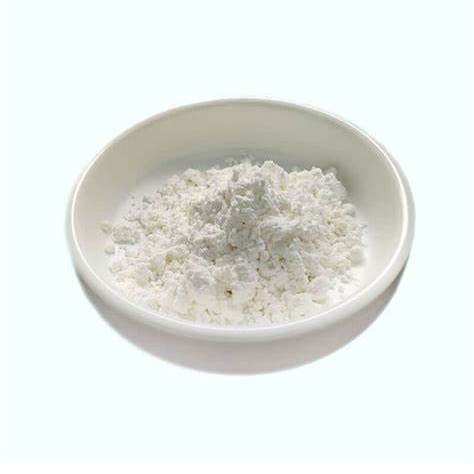 | | | | |
| --- | --- | --- | --- |
| Product Name | Resveratrol | Quantity | 1000KG |
| Batch Number | BCTP2301307 | Origin | China |
| Manufacture date | 2023-01-08 | Date of Expiration | 2025-01-07 |
Item
Specification
Test result
Test Method
Assay
≥99%
99.82%
HPLC
Appearance
Off-White or white fine powder
Brown Yellow
Q/YST 0001S-2018
Odor and Taste
Characteristic
Complies
Q/YST 0001S-2018
Loss on drying
≤0.5%
0.16%
CP2015
Moisture
≤0.5%
0.09%
GB 5009.3-2016 (I)
Melting Point
258~263C
258~260C
CP2015
Heavy metal(mg/kg)
Heavy Metals≤ 10(ppm)
Complies
GB/T5009
Lead (Pb) ≤2mg/kg
Complies
GB 5009.12-2017(I)
Arsenic (As) ≤2mg/kg
Complies
GB 5009. 11-2014 ( I)
Cadmium(Cd) ≤1mg/kg
Complies
GB 5009.17-2014 (I)
Mercury(Hg) ≤0.1mg/kg
Complies
GB 5009.17-2014 (I)
To a  P a e Coun
≤ 1000cfu/g
< 10cfu/g
GB 4789.2-2016( I)
Yeast&Mould
≤ 100cfu/g
< 10cfu/g
GB 4789.15-2016
E.coli
Negative
Negative
GB 4789.3-2016(II)
Salmonella/25g
Negative
Negative
GB 4789.4-2016
Staph. aureus
Negative
Negative
GB4789.10-2016 (II)
Storage
Preserve in well-closed, light-resistant, and protect from moisture.
Packing
25kg/drum.
Shelf life
2 years.
• Anti oxidation, delaying aging and resisting fatigue
• Anti cancer, anti-tumor
• Anti-inflammatory, anti-allergic
• Antibacterial, anti fungal, antiviral
• Immune regulation effects
• Applied in food field, it's used as food additive with the function of lengthening life.    
• Applied in pharmaceutical field, it is frequently used as medicine supplement or OTCs ingredient and owns good efficacy for treatment of cancer and cardio cerebrovascular disease.
• Applied in comestics, it can delay aging and prevent UV radiation.l.
Manufacturing process of Resveratrol powder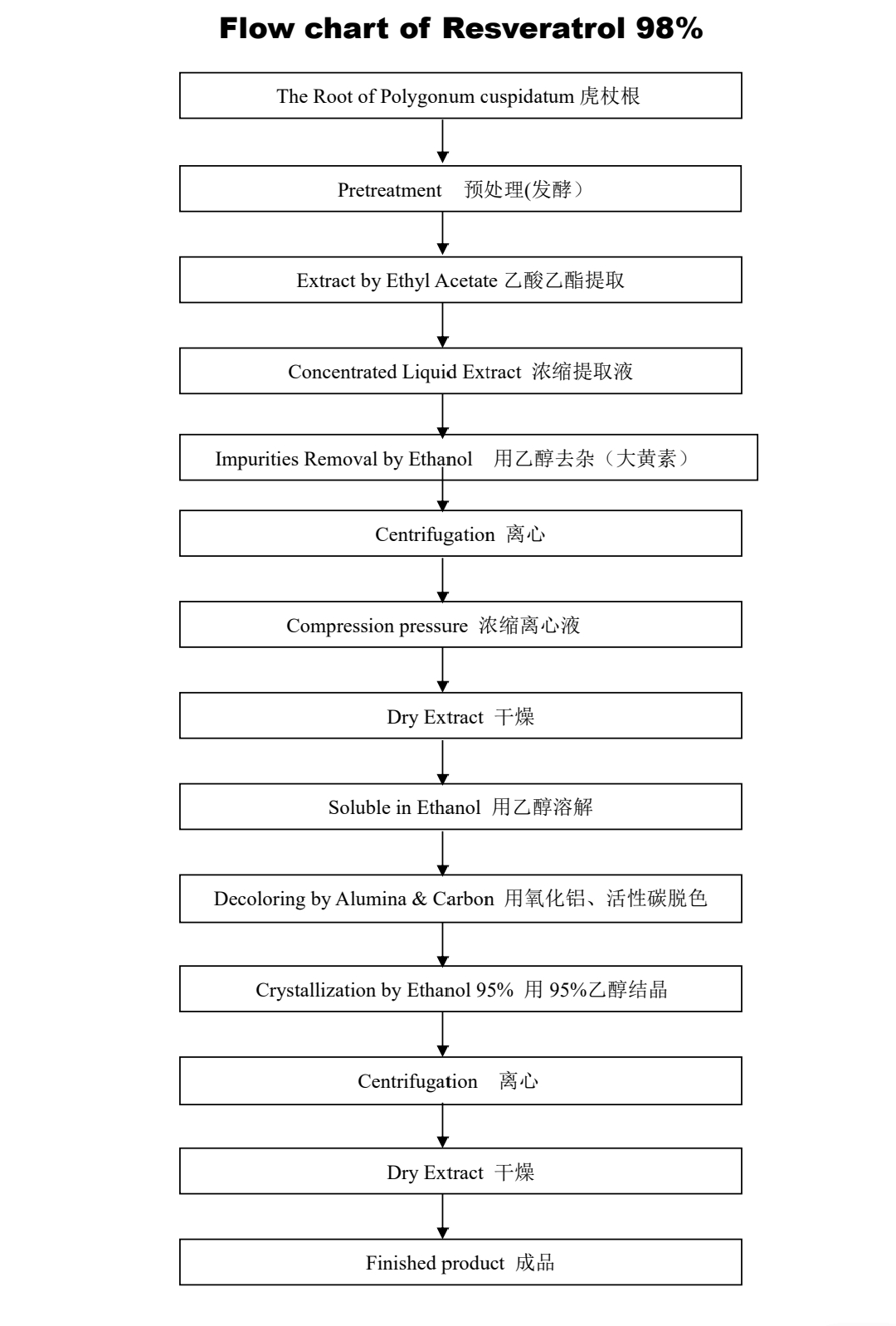 Storage: Keep in a cool, dry, and clean place, Protect from moisture and direct light.
Bulk Package: 25kg/drum.
Lead Time: 7 days after your order.
Shelf Life: 2 years.
Remark: Customized specifications also can be achieved.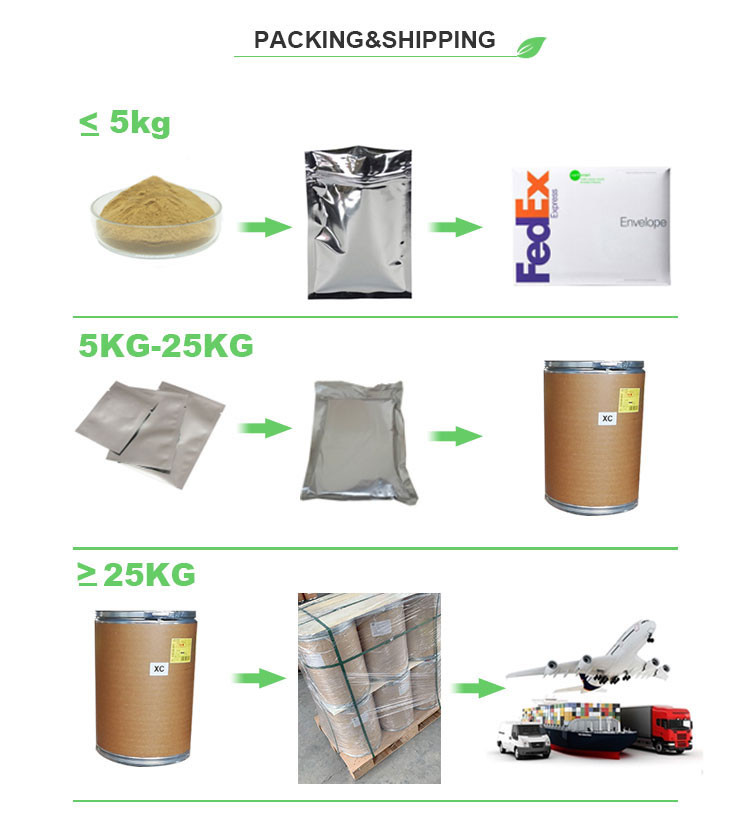 Payment and Delivery Methods
Express
Under 100kg, 3-5Days
Door to door service easy to pick up the goods
By Sea
Over300kg, Around 30 Days
Port to port service professional clearance broker needed
By Air
100kg-1000kg, 5-7Days
Airport to airport service professional clearance broker needed

Polygonum Cuspidatum Extract High-Purity Resveratrol Powder is certified by USDA and EU organic, BRC, ISO, HALAL, KOSHER and HACCP certificates.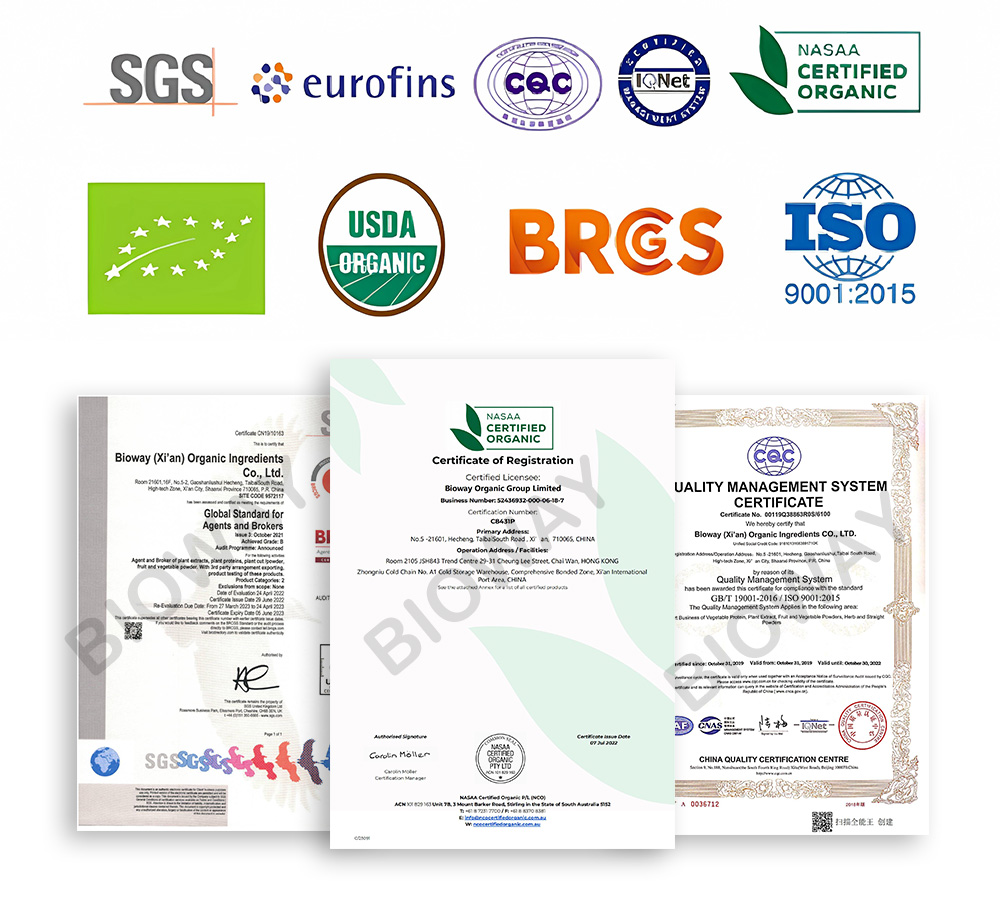 FAQ (Frequently Asked Questions)
Resveratrol is a natural polyphenolic compound found in plants, including Polygonum Cuspidatum. Extracting it typically involves using solvents such as ethanol or water to isolate and concentrate the compound.
Resveratrol has been studied extensively for its potential health benefits, including reducing inflammation, improving cardiovascular health, and supporting healthy brain function. It is also known for its antioxidant properties and may have anti-aging effects.
There is no one-size-fits-all answer to this question, as the ideal daily dosage can vary depending on factors such as age, health status, and individual needs. It is important to consult a healthcare professional before starting any supplement regimen.
Resveratrol is generally considered safe for most people when consumed in appropriate doses. However, it may interact with certain medications, so it is important to consult a healthcare professional before taking any supplements.
Yes, resveratrol may be used topically in skincare products to help protect and nourish the skin. It is thought to have antioxidant and anti-inflammatory effects that may help improve the appearance of fine lines and wrinkles.
In general, resveratrol is well-tolerated and does not cause any serious side effects. However, some people may experience mild gastrointestinal symptoms or headaches when taking the supplement.
---
Previous:
High-Content Organic Pea Fiber
---
Write your message here and send it to us